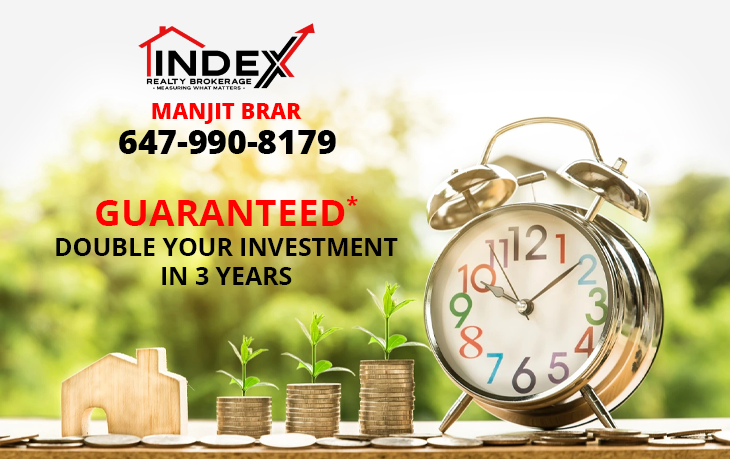 You Can Double Your Investment in Just 3 Years!
It is GUARANTEED!
YES!.. This is a REAL!
It is done in WRITTEN CONTRACT
Who can get in it?
It is an innovational program exclusively designed by us for those investors who have a very good cash in hand but don't get really good benefit out of it. There may be equity in their properties, funds in various investments, a good amount in RRSP's, fixed deposits in banks extra cash in their accounts etc. but they are not using it. They can get very good benefit of it.
How it works?
You can invest in our Real Estate projects. After that you just have to wait for full three years and your investment will be double (or even more) by that time period. You will not have to bear responsibilities and/or obligations during this three-year period. You will not have to do any maintenance, repair or replacement of any products in this period. After the 3-year period you will double of your investment (or even more) and will not be obligated to stay in a contact.
How it is the best?
There is no such a business which gives you double your return in just 3 years. There are no other investments which are giving you such an interest or returns. There are no any savings accounts either. Even if you invest in share market in big companies they are not giving as any guarantee. But our business gives you 100% guarantee and that is in a written contract that your investment will be doubled in just 3 years
What is needed from you?
We need your money to invest it in real estate market and you will get it back doubled in 3 years instead of it we don't need anything from you. Your money just not come from illegal earnings.
What is your responsibility?
Once you invested in our project you will have to sit back for three years. That it you will not have to be a any responsibilities during this period.
LET'S GET STARTED
PLEASE CALL AT
OR
EMAIL AT
AND GROW YOUR MONEY!